Traditional cheesemakers in Central America: increasing our knowledge of the dairy sector
One of the Dairy Centre's main aims is to promote cooperation between the different producers and actors who make up the dairy sector and to create an extensive and diverse relationship network. Having a first-hand understanding of the sector's situation and having the highest number of different products helps us to expand knowledge and identify short- and long-term challenges.
Across Europe, both the production of cheese and the tradition and wealth of culture generated around it are clear to see and it has set the benchmark and become an example to the rest of the world. This is illustrated by the developments that have occurred in recent years among traditional cheesemakers in South and Central America. Based on the leading types of cheese in Europe, but taking into account the contexts, taste preferences, consumption habits, etc. of each country, the diversification of cheese has gained strength and increased its presence in the markets of these countries. All kinds of cheeses are produced from any type of milk, allowing a very wide range of products to be offered. Showcasing the personality and uniqueness of local cheeses is one of the main challenges of the local artisan sector. Although in most countries in this part of the world cows have dominated the market, the number of cheese producers who work with sheep and goat's milk, until now something culturally alien, is also increasing.
Against this backdrop, in order to learn about this first-hand, we recently had the chance to travel to Costa Rica. Our main aim was to learn about the cheese sector in that country and share our knowledge and experience with producers and researchers at the university. We were surprised by what we found there. There are over 1,000 traditional cheesemakers, most of whom follow the family business model. As well as producing cheeses and dairy products for at-home consumption, they mostly produce soft cheese and sell it at local markets. There is no tradition of maturing or ripening cheeses. Firstly, because the country's climate does not allow this process to be carried out in a simple and controlled way. Secondly, because hard cheese has not been part of their consumption habits. Hard cheeses have a special texture, taste and smell, and the palate of most consumers is not used to a cheese with these characteristics. However, there are cheesemakers who have gradually made this step and are producing cheese with the above characteristics, and we visited some of them.

One of the them is the cheese producer "Rancho Avellanas". This cheese factory is located on the Pacific coast, in the north-west. As well as having a wonderful location, it is a family project that has been developed with great care. It has goats and it uses their milk to produce different types of cheeses and dairy products (lactic cheese, Camembert-style cheeses, cooked-curd goat's cheese, Greek-style yoghurt, etc.). They carry out small-scale production of the highest quality, positioning the product very well in the market (above all, selling to specialty stores and hotels and restaurants).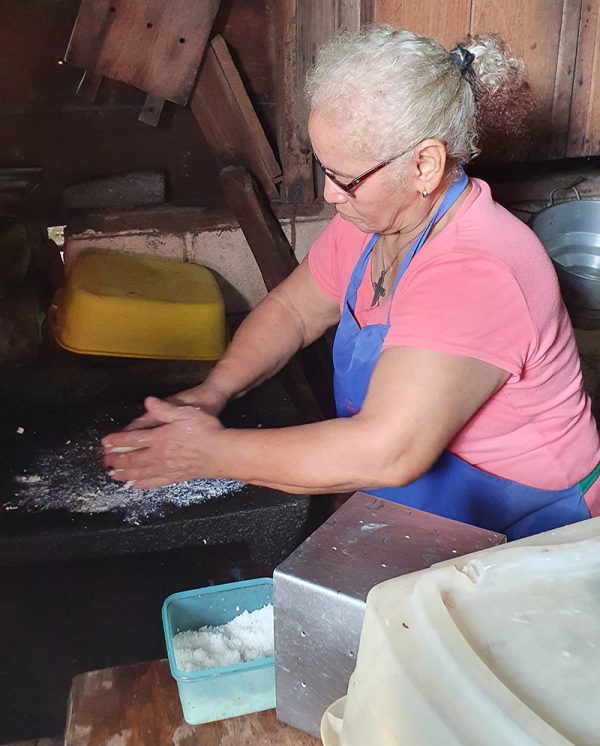 Ruma.
Through them, we met a wonderful woman, Ruma, who produces cheeses in the traditional way, as she has done for all her life. This woman produces cheeses for at-home consumption every day, using methods and tools from yesteryear. We were suddenly taken back to a century ago. One of those unforgettable experiences.
Very near to the capital, San José, we also discovered another cheese producer that works with a very similar approach to "Rancho Avellanas", the cheesemaker called "Biamonte". In this case they sell cheeses and dairy products made with goat's and cow's milk and they make the farm viable by diversifying their business (tours, vegetable garden, agritourism, etc.).
As well as finding out about the cheese sector, we got the chance to attend the "National Dairy Congress 2022-Proleche", where we gave a talk entitled "Cheese ripening". We would like to thank the organisers of the event and the researchers from the University of Costa Rica for the warm welcome and assistance that they gave us. As remarked above, it is not common to mature cheeses in Costa Rica, but it is starting to arouse interest and there are some projects underway. The number of traditional cheesemakers who produce hard cheeses is also gradually on the rise.