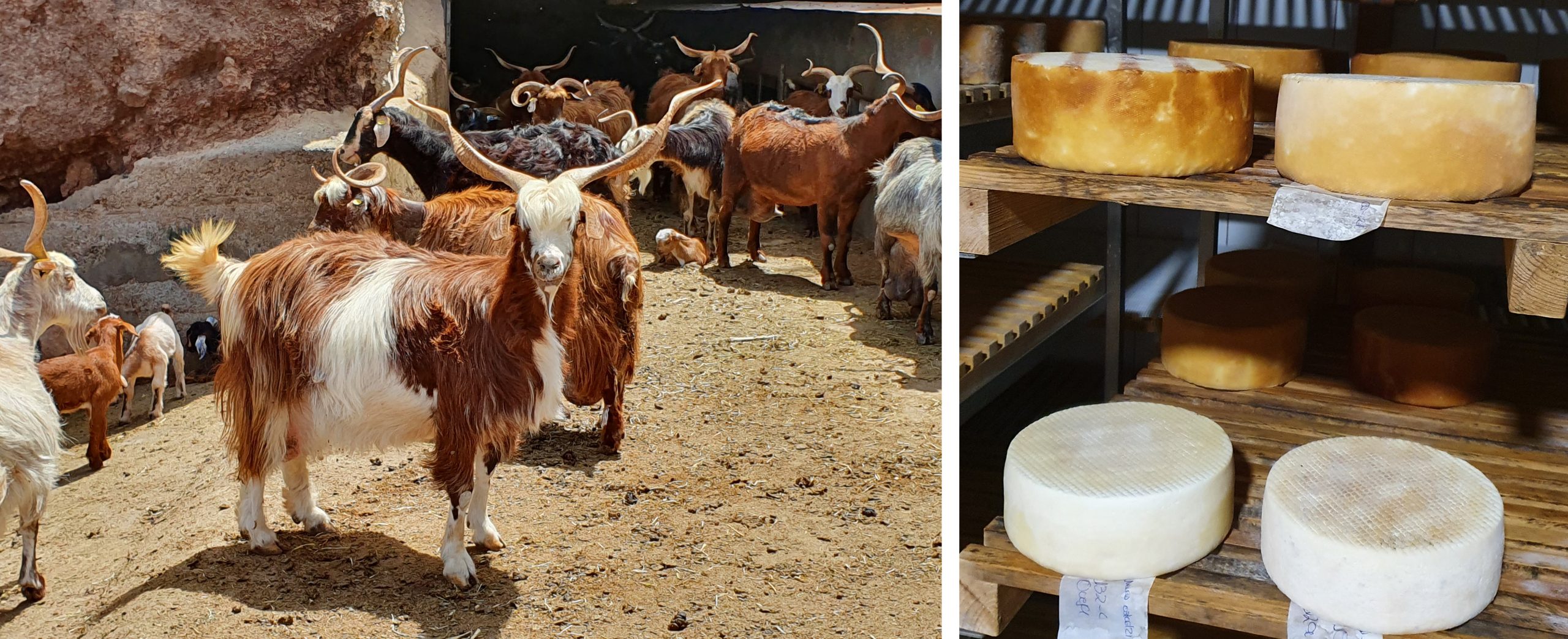 Sharing experiences with Palmero cheese producers on La Palma island (Canary Islands)

We recently had the opportunity to travel to La Palma island (Canary Islands) to meet the Palmera goat farmers in person and discover their famous Palmero cheeses that are made with the raw milk of their own goats.
The Canary Islands are the Spanish region with the highest annual consumption of cheese per capita and, without a doubt, they also have the highest number of small cheese factories per square metre in the whole of Europe. La Palma island is no exception. There are currently around 60 Palmera goat farms, of which 25 have Denomination of Origin protection for Palmero cheese.
Up until the mid-1980s, it was mistakenly believed that the three Canary Island goat breeds (Majorera, Tinerfeña, and Palmera) were actually just one. The Palmera goat in particular, which may originate from pre-Hispanic goats, is an animal that is perfectly suited to the island's climate and terrain; it is typically a tough and strong creature. On the outside, their appearance varies greatly, with their coats coming in different shades, although they are most commonly reddish in colour. The protein quality of their milk is excellent. Thanks to that, this breed offers a high cheese yield, making it possible to make a high-quality product.
The Palmero cheese production process is still very traditional. The most common method is to make the cheese daily with milk fresh from the goat. Kid rennet extract is widely used and the method of working and shaping the curd has been passed down from generation to generation. It is very common to smoke Palmero cheese, so both natural and smoked versions are available to buy.  They are mostly consumed fresh, along with cheeses that are matured over relatively short periods, and they usually end up being sold as soft or semi-hard cheeses, although there is a limited range of hard cheeses available.
Palmero cheese, which has Denomination of Origin protection, is a cylindrical cheese that weighs up to 15 kg, with its height proportional to its diameter.  Its rind is smooth and the paste is bright white in colour. It has a rather smooth appearance when you cut into it, the texture is firm with medium elasticity and it has a clean taste and smell – you can tell that it comes from goat's milk – and it has a slight taste of animal rennet.
Leartiker transferred all of its knowledge in cheesemaking technology by presenting at the Palmero Cheese Workshop and we were able to visit various cheese factories and share our experiences with farmers and cheese producers. We also had the honour of being invited to take part in the 35th Island Artisan Cheese Contest of San Antonio del Monte (Garafia) as tasting judges.