Learning from British cow's milk cheeses
Transferring our knowledge of cheese and dairy products to cheesemakers is part of the Dairy Centre's work. But we also need to expand and improve this knowledge, not only in terms of innovation, but also in our indispensable efforts to support, recover and promote artisanal cheesemaking.
The learning process is never ending, and transferring knowledge is much more successful if we learn by immersing ourselves in a local reality! It's this concept that took us to England to visit a series of cheese dairies. We wanted to focus our visit on cow's cheeses, aiming to take a deep dive into this type of British cheese.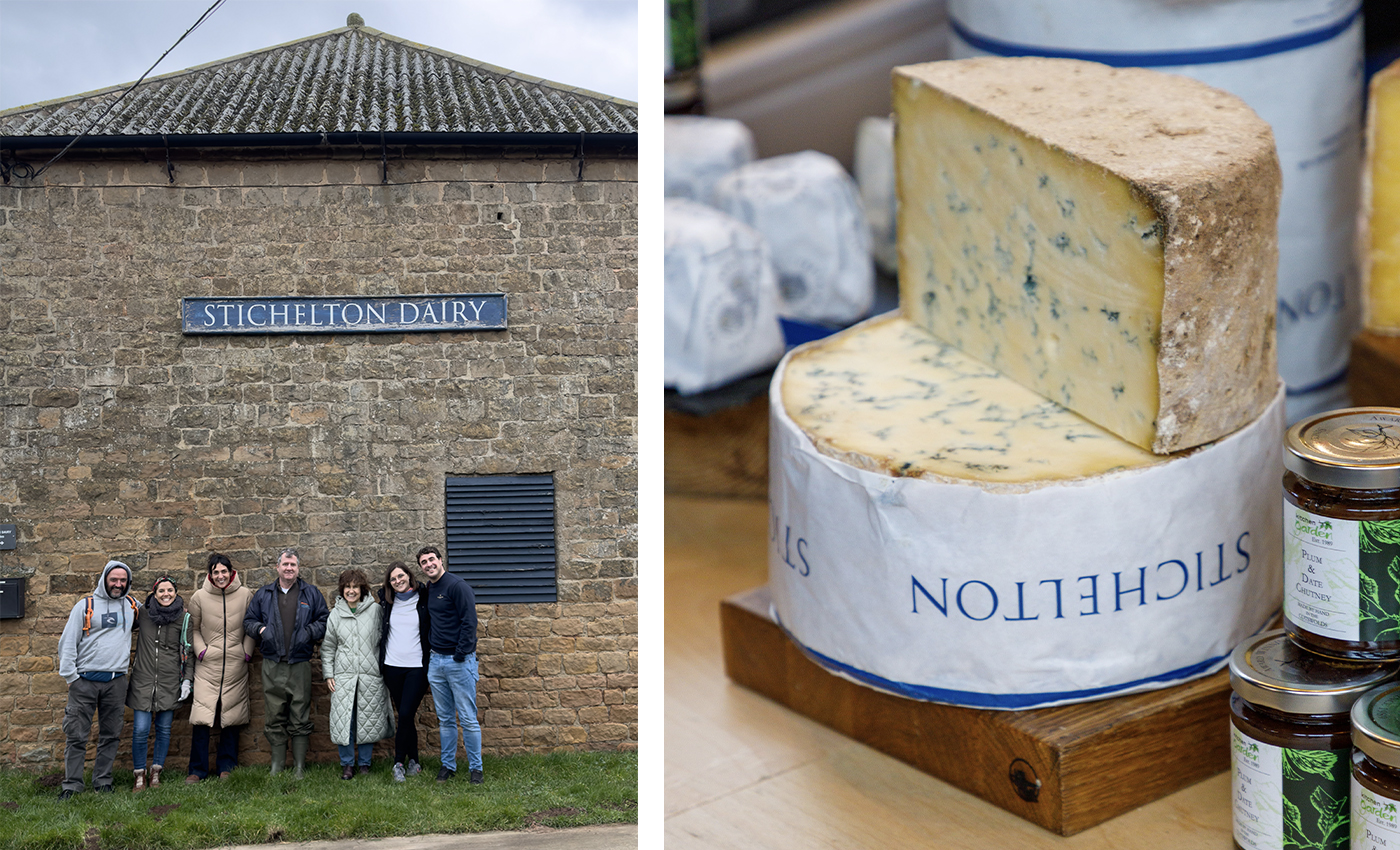 The first cheesemaker we visited was Stichelton Dairy. The team led by Joe Schnider was extremely welcoming, explaining in detail how their cheese is made. STICHELTON cheese is a blue cheese crafted from raw cow's milk, which is what differentiates it from the famous Stilton blue cheese, made from pasteurised milk. There are only two licensed producers left in the UK who make Stichelton cheese. It is entirely handmade. Freshly collected raw milk is diverted daily into the vat, the start of the 24-hour production process. It takes at least three months to refine or age this blue cheese as it develops its distinctive organoleptic characteristics. The surface is covered with mould from the dairy; inside, the cheese develops the blue mould called Penicilliun roqueforti. The cheeses in the cellar are carefully treated throughout the entire process, and the dairy produces 45 tonnes of cheese per year.

After leaving Stichelton Dairy, we headed to Cornwall to visit our second dairy on this trip. Lynher Dairy is located in the village of Truro. Seventy-five Ayshire cows produce the milk the dairy uses to make its CORNISH KERN cheese. This semi-cooked cheese is matured for 18-24 months on wooden shelves and typically comes in 4 kg wheels. Ferments from Alpine cheeses are added to a Gouda-style cheese, giving the Cornish Kern cheese its characteristic blend of these two types of cheeses, a combination that can clearly be tasted. It has a black surface and a golden-coloured interior with a deep, well-rounded, buttery caramel flavour.

Lynher Dairy also produces three other types of cheese using milk from producers 15 miles away: YARG cheese (in two versions, wrapped in nettle leaves and wrapped in garlic leaves) and STITHIANS cheese. Yarg cheeses are cured for five weeks and the leaves in which they are wrapped lend them their distinctive flavours. Stithians cheese is a cured cheese that has been produced twice a year so far. It is named after the village of Stithians in Cornwall and is produced specifically for the Christmas season and for the local fair. It has a naturally mouldy surface and is refined for at least nine months, also on wooden racks.

We also visited specialised cheese shops in London: Paxton & Whitfield, Neal´s Yard Dairy and Buchanans Cheesemonger, where we were able to sample excellent batches of English cheeses: Cheddar, Lincolnshire, Cote Hill Blue, Stichelton, Ogleshield, Lancashire, Cheshire, Leicester, etc. The experience was a testimony to the different and enriching range of cheeses, true culinary treasures, that each country has to offer.
After an incredible experience, we're back with new ideas that we want to put into practice!